I get more referrals to my blog at present on the topic of gifts for pregnant women than anything else. So in the spirit of giving readers what they want, I thought I'd do a comprehensive post on presents for pregnant women and new parents.
(Sidenote: This "giving readers what they want" will not extend to addressing certain other mystifying search terms that have recently led people to my blog, including "humans breastfeeding monkeys" and "koalas drinking beer".)

So without further ado, here are 30 great gifts for pregnant women or new parents. I'll start with baby-focused gifts, because the sometimes depressing and sometimes wonderful fact of the matter is that once that baby is born, they tend to come first.
1. Lullaby/baby music: By far my favorite so far is Dreamland: World Lullabies & Soothing Songs
. Great melodies, and because the songs are not in English, the lyrics don't get stuck in my head.
2. An ITunes Gift Cards
so that parents can buy lullaby music or music to listen to while feeding. My favorite music to listen to while feeding is chanting by Benedictine monks – so soothing. This CD is a good one – Chant: Music For The Soul.

3. A small set of compact iPod speakers
for the baby's room so that parents can slip in an iPod rather than messing around with CD's.
4. Baby books: I don't think you can ever have too many of these. The word on the street is that the best baby books are the ones that adults really like to read aloud – ones that rhyme and/or have clever storylines. I love love love Where's My Mom?
by Julia Donaldson and Eric Carle's The Very Hungry Caterpillar
. For a list of other great options jump on over to this post on authors' favorite children's books.
5. A Baby Play Gym
: The one I got only cost $30 and it's some of the best money we spent since Baby Fabulous arrived. The play gym is also light enough to pack in a suitcase. I can't believe we almost came back to Laos without one.
6. Toys to hang off the play gym, like this cute Firefly Take Along Toy
.
7. Soft cuddly toys for the crib, like these cuddly blanket toys.
8. Colorful mobiles to hang over crib or change table. Be wary of picking ones that are too heavy in case they happen to fall or get tugged down onto the baby. Another option is a baby crib mirror like this one, Baby Stimulation Crib Mirror
. Young babies love the high contrast provided by black and white and are fascinated by mirrors.
9. A My Baby's First Year book or calendar or a Keepsake Memory Book of Baby's First Years. Someone gave us a cool blank calendar like this one (Baby's First Year Sticker Calendar) that you decorate with the accompanying stickers to celebrate milestones like "baby's first smile" and "baby rolls over." I think this calendar would be even cooler if there were a sheet of stickers for events like "baby's first projectile poo" and "baby first vomits in freshly washed hair" and "parents' first dinner date post-birth" (not to mention some other less PG-rated stickers). Alas, I couldn't find those sorts of stickers anywhere. If you wanted to jazz this gift up, you could make some.
10. A diaper bag for traveling or a Travel Diaper Backpack
that includes a roll-out change mat and cold storage for at least one bottle. You could also stock it with travel wipes, diaper disposal bags, and diapers.
11. Baby clothes in sizes of 6-9 months or larger: New parents tend to receive lots of newborn clothing that the baby outgrows very fast.
12. A nightlight to plug into the bathroom and/or the baby's room. This is invaluable for those middle of the night feedings when you want to keep the ambiance dim but don't want to trip over the dog. This fun Constellation Night Light Turtle
even projects stars onto the ceiling.

13. A U-shaped pillow
: These are good for breastfeeding but also versatile enough to be excellent for when you're travel on a plane, etc. It was a lifesaver on our recent flights from Australia to Asia.
14. A baby carrier: These can be expensive, so you might want to liase with the parents about which brand they'd like. We settled on the ERGO Baby Carrier
. So far, it's worked better than the Baby Bjorn for us.
15. Baby Monitor
: A baby monitor with audio and video is enormously useful, especially if you live in a split-level house. These are not as expensive as you might think – we got ours (a similar model to this one)  on sale for $100.
16.  A Baby Secure Sleeper
: These little cots can be placed in the bed between the parents' pillows, allowing you to sleep your baby close to you without worrying you'll squish or smother them on those nights when you have to put the pacifier in 132 times or pat them to sleep.
17.  A Travel cot
: These are little cots that pack up small and light. The Samsonite one that friends gave us packs up into something the size of a large book that weighs only 600g. When unfolded it can sleep a baby up to a year old and is mosquito netted.
18. A stroller. If you're looking to splash out, this is a great present!! We bought a Baby Jogger City Elite Single Stroller
and I cannot tell you how much I've loved this stroller. It's sturdy, light, great for venting in hot weather, has a huge sun canopy with see-through plastic panels that allow you to easily keep an eye on the baby and has a host of other great features. Love it!! 
19. Then there are always purely practical presents such as… a pack of cloth diaper squares to be used as "spew rags" or diapers. If parents are planning on using cloth diapers like Bumgenius Cloth Diapers
etc, those things are expensive and you need about 20 of them. If they're not using cloth diapers they'll need literally thousands of disposables. This is one gift sure to be used. We've tried four different types and the Bumgenius are our favorites.
20.  Baby wipes. Another gift guaranteed to be used.
21.  A good quality fluffy baby bath towel for the baby.
22. Lanolin for breastfeeding
: Breastfeeding can be very painful, particularly at first. Get high quality lanolin cream like Marcalan that she doesn't have to wipe off before feeding – this can be a sanity saver during the first couple of weeks.
23.  Nappy rash cream like Desitan or Amolin.
24. Books for Mum: Don't go for pregnancy books – most women facing labour and delivery for the first time have researched it thoroughly already. Think about getting her a novel or a book relevant to the period after the baby is born instead. A personal favorite of the moment is Vicki Iovine's very funny The Girlfriends' Guide to Surviving the First Year of Motherhood
. If you're looking for a total break from all things pregnancy and baby, I recently enjoyed What Alice Forgot
. There is also my own most recent book, Love At The Speed Of Email
– new mothers will always be up for a love story with a happy ending. 

25.  A Kindle
: If Mum doesn't already have a kindle and she likes to read, this will allow her to read while breastfeeding. You can easily hold it and turn the pages with just one hand.
26.  Gift Cards
to Amazon to help Mum buy books she wants to read while feeding.
27.  A voucher for a massage, manicure, or facial: The first massage I had post birth was one of the most pleasurable physical experiences of my life. This gift is even better if it comes with an offer to mind the baby while you use it.
28.  Babysitting: Offer to mind the baby while Mum and Dad go out to dinner or lunch together.
29.  Housekeeping: Whether it's just one or two visits, or several months worth, this gift will be greatly appreciated by a new parent who doesn't have to spend precious "baby is asleep" time scrubbing a bathtub.
30.  Meals: Make them and drop them off or provide gift vouchers for take out. This takes one thing off Mum's (or Dad's) to-do list for the day.
Any other ideas for useful or fun presents? Add them below to help give others inspiration.
(Please note that some of the links above are for affiliate products, meaning if you buy them, I get a commission at no extra cost to you.)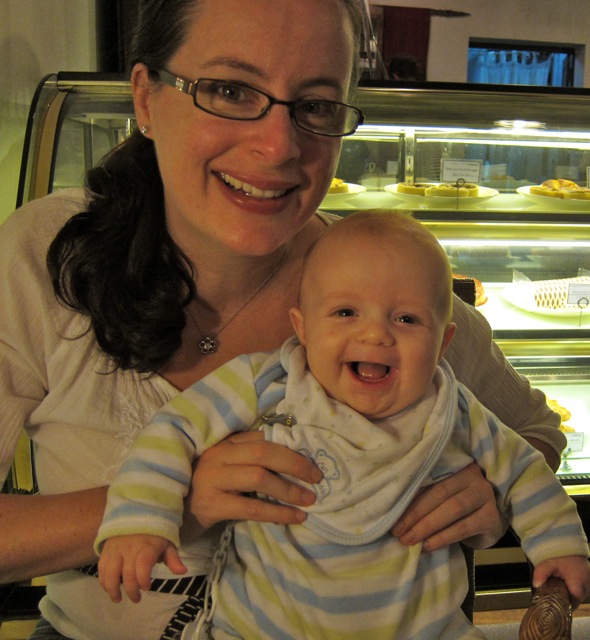 Related posts: