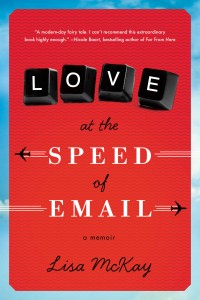 I've been spending too much time with family here (and, yes, too much time holding a coughing baby between the hours of 1 and 3:3oam) to write up the posts currently brewing in my head. But that's OK, because today I have another treat for you instead.
Today I'm being hosted on Marianne Elliott's blog. Marianne is a writer, human rights advocate and yoga teacher. She is the author of Zen Under Fire (a book about her time working in Afghanistan that I'm looking forward to reading in the very near future) and a Huffington Post contributor.
She describes her site as "a watering-hole for do-gooders, wanna-be do-gooders and recovering do-gooders" and today she's hosting both Mike and I in an intimate, thoughtful conversation about her experience of reading Love At The Speed Of Email and reflections and questions it sparked related to hope, faith, and humanitarian work.
I highly recommend getting a cup of tea and then clicking on over to this conversation on Marianne's blog.
Here's a look at a little of what we talked about in our exchange:
Marianne: Another moment of recognition was in your writing about cynicism and hope. I'm not cynical by nature, in fact colleagues have told me in the past that I need to be a little more cynical, that I trust too easily and hope for too much. So I really appreciated the honest uncertainty you expressed about where you find hope.
First you wrote:
…when I'm most often surprised by hope's companionship is also not when I'm trotting full speed down the road to Jericho. It's when, by my all-too-human standards, I'm not really making much progress at all. It's when I pause to see others' love in action… When I've stopped for beauty…
But then, and I loved you for this, you wondered whether that is really true, whether that was really where you were mostly likely to find – or be found by – hope. Do you still carry a question around where hope finds you?
Lisa: I still find hope a slippery concept, honestly. I find it hard to completely untangle hope from joy, passion, peace or optimism. I think I'm also a fairly present-oriented person and hope is quite a future-oriented concept. Mike often asks people what they feel hopeful about and I am frequently stumped by that question. 
I mean, I can list things I hope for – continued good health and happiness for love ones, for example – but that seems different than feeling hopeful. To me, feeling hopeful implies that you are reasonably optimistic (or, on the other end of the spectrum, desperately wishing against-all-odds) that something will come to pass … read the rest of this interview here.

Related posts: