To: Baby D.M.
Current Residential Address: Your mother's uterus.
Dear Baby D.M., today is your due date. Pursuant to the provisions of all the laws of mammalian biology you are hereby served a notice to vacate the premises and appurtenances owned by L.M. of the city of Coolgardie, in the state of New South Wales, Australia, which premises are now occupied by you.
The reasons for this eviction notice are as follows:
1.  Neglecting to pay any sort of security deposit or good behaviour bond upon moving in.
2.  Failure to pay rent due and nine months in arrears despite repeated requests to do so.
3.  Disturbing your landlord 3-7 times a night.
4.  Damage to said premises (including making unauthorized and excessive enlargements to the front and rear of the property, severe landscaping violations, warping key support beams, and causing structural damage to internal plumbing that has resulted in intermittent leaking).
5.  Repeated misdemeanor assaults upon landlord, including kicking, punching, and hormone poisoning resulting in nausea and vomiting.
6.  Perpetrating multiple thefts upon landlord.  You stand accused of temporarily misappropriating all of the following at different times during your tenancy: sleep, sex drive, sense of humour, emotional stability, mobility, and ability to concentrate.
7.  Unlawful extraction of minerals from the rental premises (including calcium and iron) and fomenting undesirable reservoirs of explosive natural gas within the dwelling.
8.  If you do not move out or remedy the violations listed above within 14 days of the day you receive this notice, your tenancy will terminate and you will be forcibly relocated. Ensure that you take all of your belongings (including the entire placenta) and cause minimal further damage when you depart the premises. Please note that "your belongings" do not include the entire maternal stores of calcium and elemental iron. Thank you in advance for your prompt co-operation.
Signed, dated, and served.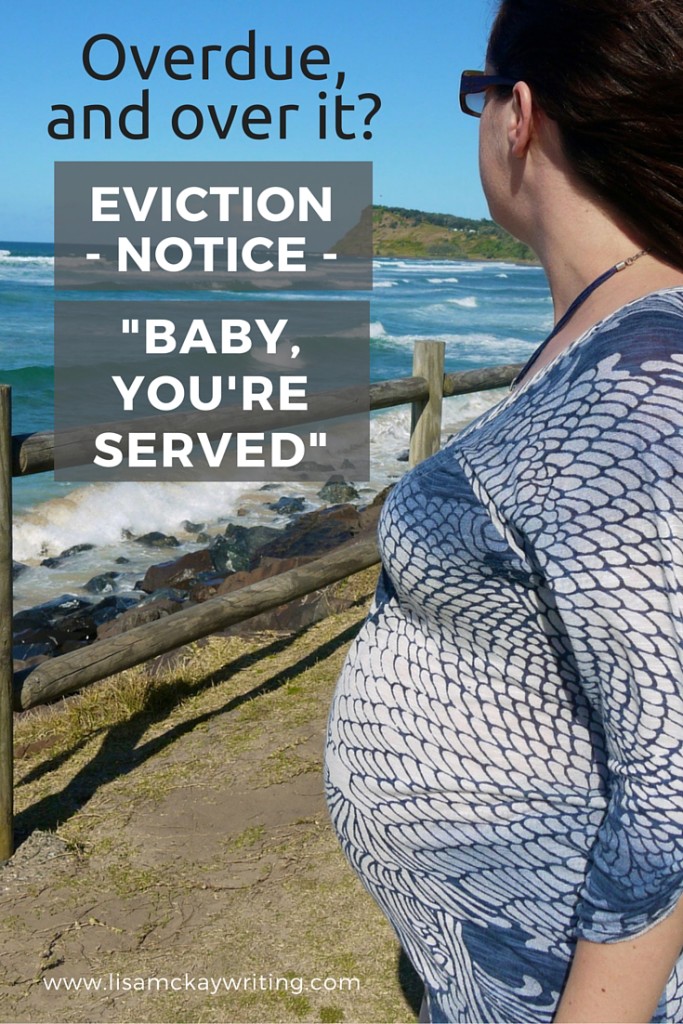 Related posts: