We writers are advised to pick a brand and stick to it. At that task I have so far failed. I write fiction, memoir, and books about long distance relationships. Find information about my books here…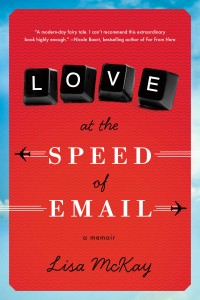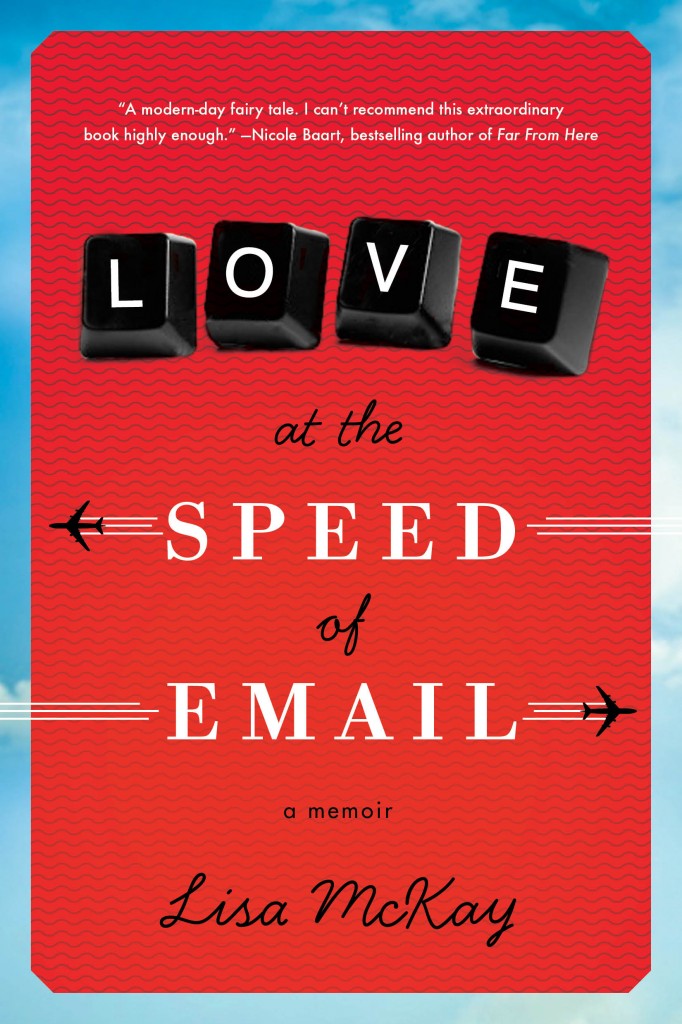 Lisa looks as if she has it made. She has turned her nomadic childhood and forensic psychology training into a successful career as a stress management trainer for humanitarian aid workers. She lives in Los Angeles, travels the world, and her first novel has just been published to some acclaim. But as she turns 31, Lisa realizes that she is still single, constantly on airplanes, and increasingly wondering where home is and what it really means to commit to a person, place, or career. When an intriguing stranger living on the other side of the world emails her out of the blue, she must decide whether she will risk trying to answer those questions. Her decision will change her life.
"Love at the Speed of Email is part grand romance, part travel memoir and part essay on life's most precious gifts. Lisa McKay is a phenomenal writer; clever and comedic, poignant and pitch-perfect. You will love this love story."
(Susan Meissner, award-winning author of The Shape of Mercy and A Sound Among the Trees)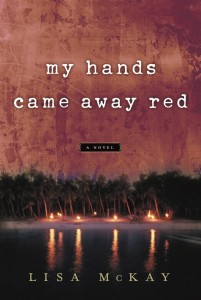 Thinking largely of escaping a complicated love-life and having fun on the beach, eighteen-year old Cori signs up for a ten-week trip to help build a church on a remote island in Indonesia. Six weeks into the trip, a conflict that has been simmering for years flames to deadly life on the nearby island of Ambon. Before they can leave, Cori and her teammates find themselves caught up in the destructive wave of violence washing over the Christian and Muslim villages in the area. Within days the church they helped build is a smoldering pile of ashes, its pastor and many of the villagers dead, and the six teenagers are forced to flee into the hazardous refuge of the mountains with only the pastor's son to guide them. As the team hikes through the jungle, Cori's search for spiritual answers and emotional stability proves just as difficult as the physical journey home.
"McKay's carefully chosen words, devoid of unnecessary sentiment, lend power to her story…This is one of Christian fiction's best novels of the year."
(Publishers Weekly)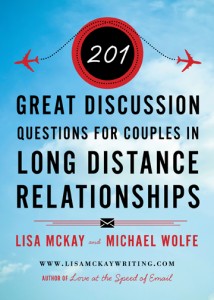 Are you in a long distance relationship? Do you want to get to know your partner better? Do phone calls sometimes feel like hard work? Do you find yourself wondering what to talk about apart from how your day was?
Pick up these 201 fun discussion questions for couples. These questions will spark fresh conversations, make you laugh, and help you get to know each other better. Questions span topics related to childhood, family, work, passions, life now, the future, what if, and much more.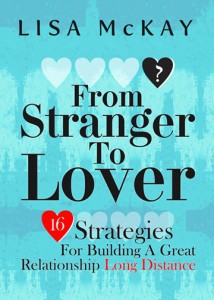 Avoid common relationship pitfalls and build a true connection even while you're far apart.
=> The wonderful news: You've met someone who might just be perfect for you. => The catch: They live far away. => The million-dollar question: Can you really build a good relationship at a distance?
The answer? Yes, but it helps if you establish healthy patterns in your relationship early on. From Stranger To Lover is designed to give you the insight and skills needed to build a great relationship long distance – a relationship so strong that it will "go the distance".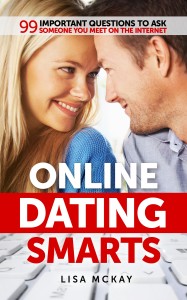 How do you decide whether it is worth putting time and energy into pursuing a relationship? And how do you give yourself the best chance of transforming online interest into offline dating and, eventually, into lasting love?
The answer isn't complicated: You ask great questions and listen carefully to their answers.
Here are 99 of those questions in 5 crucial categories. They will stimulate hours of conversation, help you figure out whether a new cyber-relationship might have real-world potential, and lay firm foundations for a successful long-term relationship. This book will help you do more than just find someone online. It will help you find someone you're truly compatible with.
BONUS: This edition also includes 5 Fun Activities To Help Couples Get To Know One Another Better.