What is it about money that makes talking about it so hard? As I sit down to write this, I feel like I'm about to write a personal post about sex. In fact, I've been wondering for a while now whether to write this post at all, but then I realized that this is exactly the sort of post I wanted to read eight months ago when I first decided to self publish my next book.
So, all you folks who are thinking about self-publishing a book, this is for you. Today I'm going to tell you exactly what it cost me to self-publish Love at the Speed of Email and share six lessons that I learned along the way.
Here's a breakdown of my costs associated with self-publishing (to date):
| | |
| --- | --- |
| Expense | US$ |
| Content edit (having a professional editor read and provide input on the third draft) | 450 |
| Copy edit (professional copy editing of the final draft) | 517.96 |
| Web hosting with Dreamhost for one year | 82.50 |
| Domain name registration | 7.84 |
| Buying the rights to use my website theme | 39 |
| Designer fee for book cover | 1500 |
| Buy rights to images used on book cover | 67 |
| Buy a block of 10 ISBNs | 250 |
| Technical help with website programming | 150 |
| Business cards for the book | 49 |
| Formatting for the Print On Demand (POD version) | 150 |
| Expanded distribution with CreateSpace | 25 |
| Ordering a proof copy for review | 20.95 |
| Cover for e-book 201 Great Discussion Questions for Couples in Long Distance Relationships | 300 |
| TOTAL | 3609.25 |
It's debatable whether a couple of those items should be included as direct costs (business cards, for example, and the cover for my soon to be released e-book of discussion questions for couples in long distance relationships). I included them because they are marketing costs for products directly related to the book. Even if you don't take those into account, however, self-publishing Love at the Speed of Email cost me more than $3000.00.
Does that figure surprise you? It surprised me when costs started to add up. I had (naively) assumed that self publishing wouldn't cost me anything even close to that.
Here are six lessons I've learned this year about costs associated with self-publishing a book:
1. Professional editing is essential: I cannot emphasize strongly enough how important it is to have other people (professionals, not just your friends and family) read your work. Dispassionate and professional content feedback is crucial for helping strengthen and tighten drafts. Copy editing the final product is a must – more than once if you can afford it. You will be amazed (and appalled) at how many errors there are in your manuscript. I spent about $1000 on editing and I actually got off lightly – you can easily spend much more than that without wasting your money.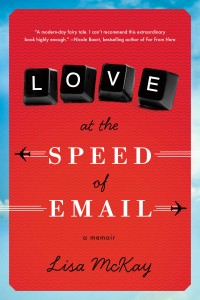 2. A good cover isn't cheap: Having a good cover is another essential, and good covers don't come cheap. I spent more than I needed to on the cover, but I'm thrilled with the result. Don't skimp in this area. Find a designer you like and spend the money. Also, discuss licensing fees for the cover-art up front. The fees for the images used on my cover (the sky, the plane, the typewriter keys) came to $67, but they could have come to a lot more than that. Some licensing fees for images used on book covers run into the many hundreds.
3. Website costs are a "hidden" part of the process but they can add up: When you're budgeting for self publishing don't forget that you'll need to spend money on your website unless it's already in excellent shape. I spent about $300.00 updating my website (transitioning my blog from wordpress.com to wordpress.org and consolidating and updating my entire website) and I did most of the work myself. If I hadn't had the time and inclination to figure out how to program (and the services of a talented friend here in Laos who charged me very little to help me with final tips and tricks that I just could not figure out myself) I would have spent a lot more than what I did.
4. Buy your own ISBNs if you can afford it: This issue of ISBNs and ASINs and the like is confusing. Google is your friend in this area, as in so many others. Google this topic and read up on the pros and cons. You can avoid incurring this cost by taking a free ISBN from Createspace or one of the other printers when you go to print, but I decided to buy my own. If you buy your own buy a block of ten. A single ISBN costs $125.00, and if you do an ebook and a print version you need two anyway.
5. You'll probably want professional help formatting your manuscript: I recommend hiring professionals to format your book for publication. I paid $150.00 to have the book formatted for print and, again, I think I got off fairly lightly. I didn't have to pay to format the book for kindle and other e-formats because my agency graciously did that for me, but without their assistance I would have hired a professional. This is something you can probably figure out how to do yourself, but if you've worked long and hard writing an excellent book it would be a shame to drop the ball at this point by not presenting it as professionally as you can.
6. Marketing can be a black hole as far as money is concerned: If you count my website costs, the ebook cover, and the business cards, I've so far spent about $500 on marketing. I could easily spend thousands (and I mean thousands) on marketing, but I've so far decided not to hire a publicist, buy print or online ads, or do anything else to publicize the book that will cost me up-front. I'd be interested in hearing about other people's experiences with publicity ventures.
Come back tomorrow for the 2nd post in this series: Let's Talk Money: What I'm earning from my self-published book.
In the meantime, I'd love to hear your thoughts on this topic. Have you self published a book? What did you learn about costs? What was money well well-spent or money wasted?
Related posts: