I'm very excited to announce that my new book, Love At The Speed Of Email, is now available.

Lisa looks as if she has it made.
*
She has turned her nomadic childhood and forensic psychology training into a successful career as a stress management trainer for humanitarian aid workers. She lives in Los Angeles, travels the world, and her first novel has just been published to some acclaim. But as she turns 31, Lisa realizes that she is still single, constantly on airplanes, and increasingly wondering where home is and what it really means to commit to a person, place, or career. When an intriguing stranger living on the other side of the world emails her out of the blue, she must decide whether she will risk trying to answer those questions.
Her decision will change her life.

Buy from:
Amazon:
Kindle
($9.99) 

Paperback
($12.95)


Createspace:

 

Paperback

($12.95)


Barnes and Noble and elsewhere




*

I've been humbled and thrilled by the endorsements this book has already received from fellow authors. Leeana Tankersley describes it as a "travel memoir with a deep soul". Nicole Baart calls it a "modern-day fairy tale." Susan Meissner has this to say:
"Love at the Speed of Email is part grand romance, part travel memoir and part essay on life's most precious gifts. Lisa McKay is a phenomenal writer; clever and comedic, poignant and pitch-perfect. You will love this love story."
This book has been a long time in the making. There have been countless emails and skype dates, dozens of plane rides, a marriage, a baby, and a move to Laos along the way. Please help me celebrate it's release by buying a copy and spreading the word.

*
Launch giveaway: Win a silk scarf from Laos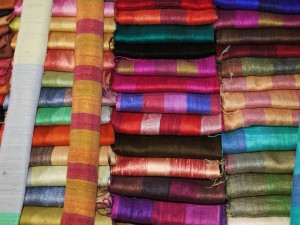 Celebrating the book launch by sending out signed copies from Laos is more than a little impractical (especially seeing as I have yet to see a copy except via skype – those of you who order paperbacks now will see it before I do).
Luckily I have another great option – one that supports the local economy and is even more beautiful than my book – silk!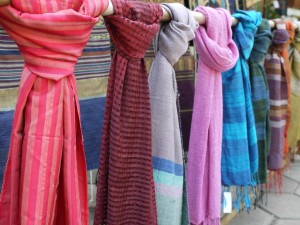 Laos is renowned for its silk production. The weaving they do here is gorgeous, delicate, and time-consuming. A single scarf takes a couple of days to make.
So to celebrate the the release of Love At The Speed Of Email I'll be giving away a silk scarf from the night market here in Luang Prabang to someone who shares the news of this book launch with friends. You'll even be able to pick the colour.
_
Here's how it will work …

*
Help me spread the word about Love At The Speed Of Email by doing one or more of the following:
Host me on your blog for an interview or a guest post

Share this post or

the book's information page

on facebook, twitter, pinterest, you name it…

Link to news of my book launch on your blog

Download the first chapter of the book - 

Sinsters Abroad

– or this

launch announcemen

t and email them to friends you think may be interested (know anyone in a long distance relationship? Humanitarian workers? What about friends who read memoirs or love a good love story?)
*
If you let me know you've helped share the news by doing one of the following, I'll enter your name into the draw.
Tag my name in your facebook post or tweet (@lmwriting)

CC me on your email

Leave a comment on this post

Send an email to

lisamckaywriting{at}gmail{dot}com
*
If more than 100 people  join in on the fun I'll be giving away two scarves – double the chance to win! I'll draw the winners on Friday July 13th (and thank you in advance for helping me make what might be the first-ever virtual book launch from Northern Laos a success!)
**
Related posts: