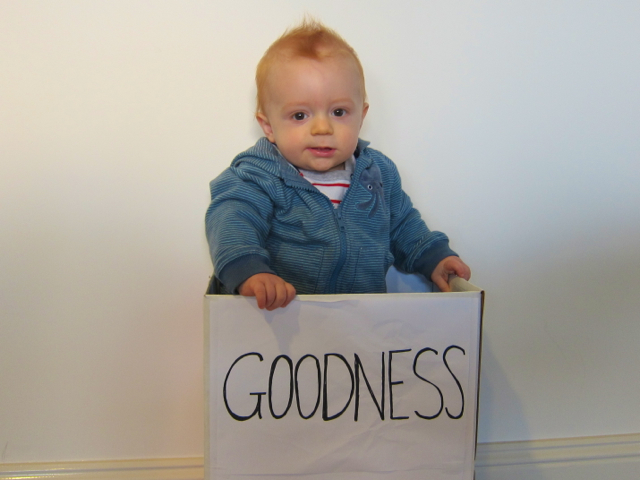 It's been ages since I wrote a post in my series about fruits of the spirit. I've felt a bit stuck on the theme of kindness – trying to think of something new and fresh to say on the topic. Or perhaps I should just say that I've felt stuck "trying to think". It's been a busy, exhausting couple of months. Most of the time right now I feel as if I'm walking around with half a working brain, a quarter of my personality, twice my normal quotient of irritability and anxiety, and not a single flicker of creative inspiration.
These last few months have not been my favorite season of this year so far.
So last weekend, in the absence of anything interesting to say about kindness, I thought I'd turn over a new leaf and move on to the theme of goodness. 
I should have known better. With the possible exception of the month (three months) of kindness, each of these themes seems to have been associated with a challenge tailor-made to test me on that front.
During the month of love, I struggled to figure out this new parenthood thing and how I felt about the fact that I wasn't swamped with an exhilarating rush of love for Dominic upon his birth. The month of joy saw me smothered by some significant post-natal depression and anxiety. During the month of peace, Dominic broke his femur, and the month of patience saw us caring for a baby in a cast.
The day I decided to move onto the theme of goodness brought with it the news that Mike had herniated a disc in his back. The next day we learned that the herniation was severe and surgery was recommended.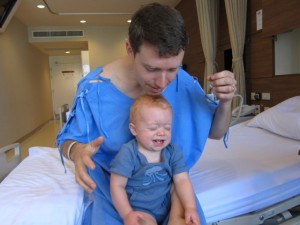 Now, ten days later we're sitting in hospital. Mike's hooked up to an IV that's dripping saline into the back of his hand. Soon they will come to start him on antibiotics, and wheel him down to the operating theatre.
Dominic is napping in his stroller. It is a brief and blessed break from having him crawling all over the floor and then sucking on his fingers, or ripping an electrical outlet cover right out of the wall, or whining to be picked up – which after 1pm today I will be only parent allowed to do for two whole months.
I am sitting here thinking about how much my broken ankle still hurts, and about goodness.
There is a seminal verse in Romans chapter 8 that goes like this, "And we know that in all things God works for the good of those who love him, who have been called according to his purpose."
I have a love/hate relationship with that verse.
It confounds me. More than that, even, it can anger me. Whenever I hear it, one of the little voices that lives inside my head (the one who wears torn jeans and sports a nose ring and an ill-advised tattoo) pipes up defiantly, "Oh yeah? What about drunk driving and cancer and war? What about kids dying in Syria and Sudan and movie theaters in Colorado? Huh? Just try to talk to me about good in all of that."
I've heard that verse offered glibly, as a platitude, too many times. And I've seen it burden people who couldn't feel any good in their current situation with additional feelings of failure, guilt, fear and self-doubt – failure and guilt over their inability to conjure up a bright side at will, and fear and doubt about what that implies regarding their relationship with God and his purposes.    
And, yet.
Great hope lies in those words, doesn't it? Even when I'm feeling confused and resentful I can still often draw solace from that promise. I can't believe that statement blindly, without doubt or questions, but I guess you could say I believe it enough to draw strength from it – to trust that dark clouds will be gilded with silver. Somehow. Eventually.
Related posts: