Since Dominic was born twenty months ago, I've gotten good at letting most unsolicited parenting advice roll off my back. I can shrug and smile now when people tell me my child is tired or cold, or when total strangers look offended when Dominic doesn't respond to their overtures with open-armed affection and kisses on demand. However, there's one parenting mantra that people trot out that I could quite happily never hear again.
That line is: "When a child gets hungry enough, they'll eat."
This really pushes my buttons.
You see, Dominic is what you might call a picky eater ("non-eater" would also be appropriate). I've never seen a toddler so unmotivated by food. He would seemingly rather do anything than eat most of what we put in front of him.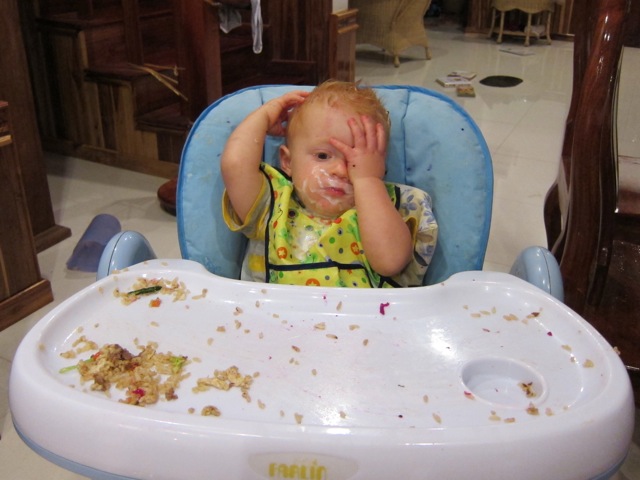 This has been the cause of more stress and angst over the last six months than any other parenting issue, and after watching Dominic carefully I've decided the following …

Almost all children probably will eat enough to stay alive if you provide enough good food but don't coax them into eating it.
If this is all you ever do, some children will not eat nearly enough to get what they need (either calorically or with regards to micro-nutrients) to grow and develop according to their potential during this critical developmental phase.
Some kids are simply too distracted by the lure of exploration and play to be bothered with food most of the time. And some kids, I now believe, rarely feel hungry enough to voluntarily prompt them to pay attention to their plates rather than their dogs/the fan/the wonder that is gravity/trying to maneuver their foot up on the table/gazing at their own fingers/watching paint dry … the list could go on.
I have read plenty of expert advice about how to conquer the picky eater. Some of the common suggestions (routine, variety of food, minimize distractions, etc) have helped some times and not others. Nothing has worked consistently enough to keep him well nourished. Consequently, the lengths I have gone to in recent months to get food into my child would have shocked my pre-parent self.
I've decided to put all this experimental learning to good use and publish a new list – a list of tips and tricks for picky eaters that you won't find on any of the experts' sites. Never mind that this is because the items on this list are ridiculous and, frankly, sometimes less than hygienic. No, never mind that, because these are things that have worked.
I offer them to you in the hopes that they'll at least make you laugh.
If you also parent a picky eater and this gives you some new ideas for how to ignore all the "expert" advice that doesn't work for you, better still. And pay no attention to people who will tell you that you're setting bad patterns that will impossible to reshape. Regardless of how this all turns out, I'm fairly sure Dominic won't be demanding to eat his dinner out of the palm of my hand when he's thirteen years old just because I let him do it sometimes when he was a year and a half. Just a guess.
So without further ado, here are twelve things that Mike and I have done recently to cajole Dominic into eating (Mum and Nana, don't read past number 8 – you'll be too disturbed):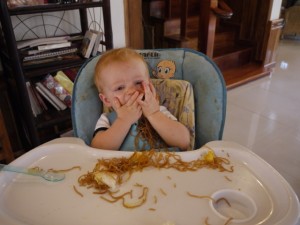 1.  Clap every bite. Seriously. Make a big celebration out of every bite of healthy food. Never mind the fact that your royal babyness will start to expect applause for putting a single pea in his mouth. Also, don't fret that he will, in fact, start to expect applause not just from you but from everyone else sitting within twenty feet and that he will point to person after person commandingly until they oblige him with said applause. Just hang onto the fact that he ate a pea.
2. Perform a "happy sandwich/noodle/chicken/carrot dance". The happy sandwich dance will work when simple applause is no longer enough. The more ridiculous the happy sandwich dance makes you look, the better. That way, when you point to your child's tray and say, "if you eat this piece, Mama will do the happy sandwich dance," your tiny tyrant's face will light up and he will wave his arms in the air in anticipation. Do not think about how silly you look waving your own arms in the air and shaking your butt, especially when you do the happy sandwich dance in public. Instead, think of it as an unscheduled mini workout.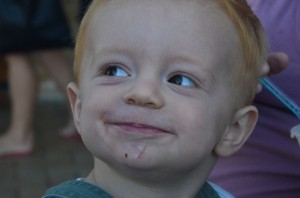 3. Make it a game. The game that's worked best for us is "chicken on a stick." Break off a piece of chicken satay and work it to the end of the skewer. Offer it to your child. When he closes his hand over the chicken, use your most dramatic voice to say, "one … two … three … PULL!" Then yank the stick away, leaving the chicken in his hand. Don't do it again until he puts that piece of chicken in his mouth and eats it. (Warning: This can work so well when you first start to do it that you child may eat more chicken than his under-fed little system knows how to cope with and then wake up screaming in the middle of the night because of a tummy ache. Yeah.)
4. Bargain. This one has only started to work very recently. If your child loves fruit, have a cup of cut up grapes, watermelon, or mandarin sitting on the table. When he points to the fruit and whines, tell him you'll give him a grape if he eats one thing off his tray. Repeat, bite for bite.
5. Peanut butter and pine-nuts: On nights when he won't eat any dinner at all, wait half an hour and then feed him teaspoons of peanut butter straight out of the jar and let him wash it down with whole-fat milk. Also, pine nuts are loaded with fatty nut goodness and easy to chew, and for some reason Dominic will eat these when he won't touch much else. Go figure.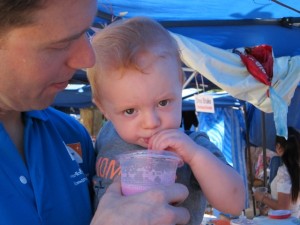 6. Milk boxes, yogurt squeezes, and ice cream. We never thought we'd be "milk box" parents, much less parents who put three different types of milk boxes in the fridge and let our child choose which one he wants. Also, I've noticed that Dominic will drink eat yogurt out of an expensive "hold and squeeze" container when he won't touch identical tasting yogurt off a spoon. Finally, ice cream is a fail-safe. He will always sit still for ice cream (well, always except at the ice cream shop with the running fountain and the goldfish. Apparently, fountains even trump ice cream.) Yes, in case you were wondering, I have sometimes fed him ice cream on nights when he didn't eat any dinner.  
7. Feed him in different locations around the house. Sometimes on days when he won't touch a thing in his high chair, Dominic will eat when we're sitting together on the stairs or when he's distracted by the television.
8. Let him eat his dinner "like the dog." This might mean letting him pick up food with his mouth off the palm of your hand or kneel on the floor and eat straight out of a dish without using his hands. NB, do not use the actual dog dish, no matter how much your toddler seems to want you to (even I don't go that far). Also, if you are letting your child eat off the floor, make sure the actual dog is locked outside. Trust me, the actual dog is much more food-motivated than your toddler. If given half a chance the dog will nose his way in there and eat your baby's dinner for him. Far from being upset, your child will think this is all great fun.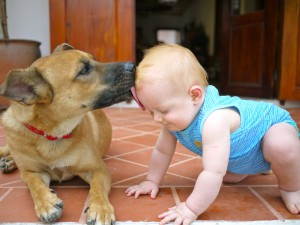 9. Share with the dog. While we're on the topic of the dog … I have, on occasion, let Dominic feed the dog some of his dinner. I've noticed that Dominic will usually feed the dog a couple of handfuls, and then eat one himself. (Yes, using exactly the same hand. Mum, I warned you not to read past number 8).
10. Let strangers feed him. Sometimes when we're in a restaurant or a public park, Dominic will toddle up to total strangers who are eating and gaze at them as if he is a starving foster child who hasn't seen a decent bite in months. If they offer to feed him some of what they're eating I let them, because here's the thing … he will almost always eat it, especially if it's other children who give him food. I will even admit that once or twice I have given a strange child food and encouraged him or her to feed it to Dominic.
11. Feed the chickens together. Buy four chickens. Put them in a pen way up the back of the garden. Make a daily ritual out of taking the scrap bucket up to feed the chickens, and let your toddler throw the food into the pen. There's a good chance that during the process he'll decide that the half-eaten banana or a piece of buttered toast he wouldn't touch with a ten food pole at breakfast will do quite nicely for an impromptu snack. Let him eat it; it's not that dirty. There are mostly just vegetable scraps in that bucket. Mostly. 
12. Put bread out for the birds. Yesterday we got some stale bread, ripped it into pieces, and tossed it out onto the lawn for the magpies to feast on. Twenty minutes later, no magpies had appeared but Dominic had found and eaten at least half of those bread pieces himself. Winner. We'll definitely be doing this again. (Note, don't try this if you've recently put chemicals on your grass. It's also best not to do this if you've recently mowed the lawn or if the bread is, you know, actually moldy instead of just stale).
There you have it. As we're not out of this phase with Dominic yet, I'm sure there will be more to add to this list later. In the meantime, I'd love to hear from you.

Have you done things to encourage your toddler to eat that you never in your wildest, well-educated dreams thought you'd stoop to doing before you had a child? What?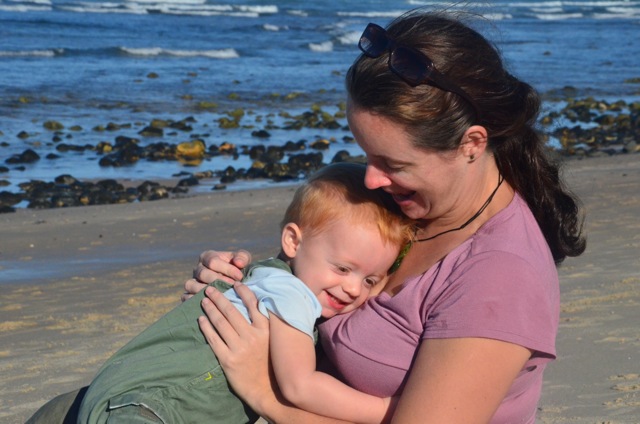 Related posts: