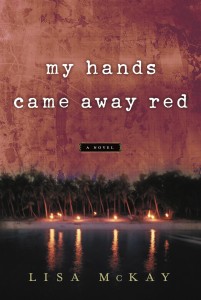 Thinking largely of escaping a complicated love-life and having fun on the beach, eighteen-year old Cori signs up for a ten-week trip to help build a church on a remote island in Indonesia. Six weeks into the trip, a conflict that has been simmering for years flames to deadly life on the nearby island of Ambon. Before they can leave, Cori and her teammates find themselves caught up in the destructive wave of violence washing over the Christian and Muslim villages in the area. Within days the church they helped build is a smoldering pile of ashes, its pastor and many of the villagers dead, and the six teenagers are forced to flee into the hazardous refuge of the mountains with only the pastor's son to guide them. As the team hikes through the jungle, Cori's search for spiritual answers and emotional stability proves just as difficult as the physical journey home.

My Hands Came Away Red is a great selection for a book club. Visit the Book Club page to download the Reading Group Guide. 
Praise for the Christy Award-Nominated, My Hands Came Away Red
"McKay's carefully chosen words, devoid of unnecessary sentiment, lend power to her story… This is one of Christian fiction's best novels of the year."
–    Publishers Weekly
"To say I was blown away by the intensity and power of Lisa McKay's debut novel is an understatement! I have no hesitation in stating that my hands came away red is the finest book I have read this year and I hope it is the first of many from this Australian author."
–    Rel Mollet, TitleTrakk
"I believed myself there, with the mission team, and could not put the book down. Not only is the novel "real" – it hands me a bill of responsibility – a call to change my thinking and instils a desire take action."
–    Cathy Golke, author of William Henry is a fine name
"This debut novel reads like it's real. You don't want it to be real – hands that are red from spilled blood horrify us – but McKay takes you and your five senses right there to the jungles of injustice and you travel the same road of fear and doubt that her young protagonist travels."
–    Susan Meissner, author of Blue Heart Blessed and more than a dozen other books
"It's a fabulous story, but what makes it magical is not just the clean writing, but the way she uses precise, unique language in the scenery to evoke emotion, create mood."
–    Susan May Warren, author of Finding Stephanie and more than a dozen other books
"Gripping and exciting, My Hands Came Away Red, is much more than a light summertime adventure read. McKay delves into the Christian/Muslim conflict with knowledge and poise, but from a personal perspective that shows that, as a psychologist, she has a unique understanding of people and what makes them tick."
–    Emma Whale, Christian Woman: Inspired Living
"An incredibly real story of human struggles, offering powerful insights into God's love amidst pain, fear and death."
–    ChristianityToday.com
"This is a novel, but the issues it deals with are very real: religious conflict; life and death; God and suffering; love and hate; forgiveness…Horror and humour intertwine… This would be a great choice for any book-club – it can be enjoyed by Christians non-Christians alike, and is guaranteed to get people talking."
–    Dr. Debbie Hawker, InterHealth
"This book is rich, amazing, difficult, and necessary. A part of me wishes I hadn't read it, because now my soul is stirred, and I kind of liked it quiet. But a larger part of me is thrilled that this book crossed my path. … This is (and I've read A LOT this year) THE most important novel I've read this year…maybe even in my lifetime. And as a lover of words, I don't tend to waste them."
–    Deena Peterson
"A compelling, powerful story on a subject too often ignored in fiction. She shows the confusion, the lies, the dangers of vengeance upon vengeance that destroys a people. And she does it well, so well that it doesn't read like fiction.
–    Debbie W. Wilson, ChristianBookPreviews.com
"This has to be one of the best books I've ever read (and I read a lot). Ms. McKay made the characters incredibly realistic. It was deep, thought-provoking, and beautifully written. A must, must, must read for everyone!"
–    Hoffman, Novel Teen Book Reviews
"Wow! What a great book. Having lived and worked in Indonesia and dealt with some of the fallout of the many religious and ethnic fighting there, this book does an excellent job of covering the emotions and struggles of the people. While the story is told from the perspective of a teenager this book is great read for all ages."
–    C. Yates
*Author royalties are being donated to charities working in Indonesia, including Opportunity International and International Justice Mission.